Article by Jae Nam on Aergo's official Medium page.
In the past week we've been collecting questions and frequently asked items that were brought up in our Telegram channel. The AERGO team is all ears, and we've gone through the process of addressing queries that range from technical, the inspiring, the strange, to the burning ? Let's dive right in!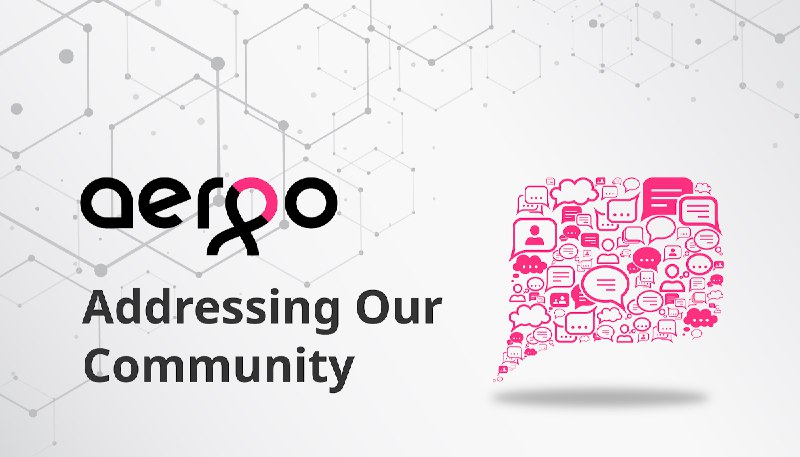 Q: Which oracle will be used by AERGO, or will there be just a default for dapps like Chainlink?
A: There is currently no official oracle as there has not been a need for one within the use cases of the enterprises that are operating on our chain. Necessary information for each customer is simply uploaded onto the chain.
Q: Are the possible solutions to the high cost of using erc-20 liquidity tokens: alternate protocols like Polkadot or Cardano?
A: In the long term, we are looking to utilize and trade our mainnet tokens as a gas solution. Currently we have no plans to use other protocols.
Q: How will KDAC custodial efforts affect the AERGO token. Will Tokens be used in these solutions? Will Bitgo be using any AERGO products?
A: BitGo is not using any AERGO products. We are working to integrate KDAC custody solution with the AERGO platform.
Q: Have people print stickers and paste them on their city, send you a picture, and the most liked one gets a prize in AERGO. Spread the news of the winner. Give someone 5k AERGO or something for the most creative one.
A: We definitely do not want to have our community committing any illegal vandalism type of campaigns in their respective city. I believe there are other ways to spread news about AERGO.

Q: Partnerships with several youtubers, known and upcoming ones. (It might cost some money but at this point, its a bull market. Spread the word, why are we missing this chance, even if the projects aren't done, spread the NEWS of the upcoming projects and then deliver)
A: We are working with our marketing agency to set up interviews and coverage by crypto influencers.
Q: Where is the updated Roadmap, please provide a concrete answer here.
A: We will be publishing our official roadmap within a week.
Q: Where are you on marketing, are you hiring someone to handle the different channels and keep twitter, reddit, facebook, website constantly updated with new and re-used information?
A: We have a great marketing agency that oversees our communication with the community. We will be doing more in the future with our website and create additional transparencies with the project.
Q: What happened with the Samsung Partnership, any new developments?
A: We are in talks, however with large companies such as Samsung, they are not flexible nor quick on decisions. We are leveraging our relationship as best as we can within their guidelines.
Q: What happened with the Hyundai partnership, any new developments?
A: There are many divisions of Hyundai. Hyundai Mobis, a SI company, works with Blocko to service Hyundai Group companies with blockchain solutions. Hyundai Motors is a customer of Blocko that utilizes AERGO Enterprise platform for used car part inventory tracking solution.
Q: How is the AERGO Hub being received? Any feedback received?
A: We have just opened our beta testing program and just started to collect feedback. We will be sharing the feedback with the community soon.
Q: Would a buyback option be available in the future?
A: This is an option that can be considered in the future.
Q: Would you buy ad slots on Coinmarketcap to promote AERGO.
A: At AERGO Mainnet launch we did purchase ads on Coinmarketcap website, however the return on investment was not high. We may consider again in the future major events. We do however send regular signals on Blockfolio.
Q: Can the website be updated with current news and information?
A: Current news and information are always posted on the website. We are looking into making it more easily visible.
Q: How do you feel about doing promotions on Twitter to spread the recognition of this coin, giveaway or something.
A: We would be open to ideas. We have done giveaways on AMAs in the past that were promoted on Twitter.
Q: New listings, we know you mentioned Coinbase, did you apply? What happened there? What about other exchanges, US consumers have no way to buy this coin.
A: Exchanges have very strict NDA regarding listings. All we can say at this point is that one of our goals is to list on an US based exchange.
Q: Thoughts on partnerships with other coins?
A: Yes, this is something we are brainstorming. If you have any ideas, we would definitely be open to hearing about them. We do not want to just announce a partnership for the sake of pumping the token price. We would like to do a real partnership where it can scale in the future and sustain a high token price.
Q: Have partnerships also promote AERGO, as it stands most partnerships just mention Blocko but never AERGO.
A: Press releases with Blocko's customers are very tricky. Most of the high profile customers go through their PR department reviews. Mentioning themselves, and their SI partner is easy, but adding a 3rd party company into press releases is difficult.
Q: More community involvement and most of all ACTIVE social media handles. (Not a post here and then 2 or 3 weeks later another post)
A: We have AERGO Knights that we support to do posts for us, as well as our marketing agency. Time to time, AERGO team members participate in the official channels.
Q: Are you able to hire a company to handle the social media side who is able to be ACTIVE and constantly remind old users and new users alike of what is being worked on and what has been done already.
A: We are actively doing this, but we could do this more frequently.
Q: The United Nations bought 2.8M LTO coins (similar project to AERGO) and is going to use it for a digital land registry in Afghanistan. That is proof that huge organizations and governments are not afraid of blockchain tech any more. The AERGO team can use it as an argument in negotiations with companies. AERGO was going to do some land registry as well. What is the progress? Will it / does it use AERGO mainnet?
A: Every country has different laws regarding certification of documents. Just because one country uses blockchain one way, does not mean another country will adopt their policy. The Korean government does not yet recognize certification through public blockchain, however they do recognize private blockchain usage with certain licenses in place. Blocko was able to install AERGO Enterprise for a Korean land registry to certify land deeds to thwart forged deeds. Until the laws in Korea are changed, which we currently see changes in the right direction, we can only service the customers with their current needs. But, the good news is that Blocko and AERGO are positioned with our customers, should the day public blockchain usage becomes certified.

Q: AERGO knows that they are partners of Samsung. But do Samsung know that they are partners of AERGO? Is AERGO really a partner of Samsung or is it just a marketing thingy?
A: Yes, Samsung knows AERGO is a partner of their Samsung Blockchain Wallet. Contracts were signed to be listed on the wallet. We continue to discuss programs that we can implement to promote both AERGO and their Blockchain wallet.
Q: Forbes is mentioning Samsung and its Nexledger on the Blockchain 50 list each year. Is there some way we could be mentioned instead/ next to Nexledger in the list?
A: I believe the answer is no, as Nexledger is Samsung SDS' product.
Q: What is the strategy for AERGO in Korea? Won-Beom Kim shared there is one. Why do most Koreans not know about AERGO in its own region?
A: We have stepped up our marketing in Korea to the crypto investor community. AERGO is more widely known in the Enterprise segment versus consumer segment.
Q: Why not do live AMA's with big youtube influencers like BOXMINING OR IVAN ON TECH ?
A: We can look into doing AMAs with influencers, however we are mindful of not spending our marketing budget on everything. Influencers are expensive and we need to be strategic with our budgets.


Q: A weekly or bi weekly summary of what's been worked on will be useful for keeping the community updated on progress. For example A timeline for all the projects that AERGO is working on like ISDB, DTT, CCCV.
A: We will consider making a dashboard to show progress of our projects/timelines.
Q: Where is the updated roadmap?
A: It will be published before the end of February.
Q: Why no marketing is being done?
A: Marketing is being done regularly, as we have an agency that helps us with marketing AERGO.
Q: What happened to the Samsung partnership?
A: We have a great relationship and will continue to find joint projects.
Q: Request to reduce supply to 50m from 500m in the ratio of 10:1 like algorand
A: Could you supply a compelling reason for this technically, and not just for token price pumping?
Q: What is AERGO's plan to increase community engagement and draw in developers to build on mainnet and drive network effect
A: We are hoping to do this with our AERGO Hub product. We will also create programs that incubate compelling developer/projects on AERGO


Q: Are there any plans for community events?
A: We are looking into online events.
Q: What is this year's roadmap? We were told the team is working on releasing it soon
A: Roadmap will be published within the month of February
Q: Have u thought about renewing the brand? New website, Logo etc.?
A: We are looking to refresh with easier view of relevant information
Q: What date will the roadmap be released? The team has been saying we'll let you know for weeks. It's been almost 2 months since the new year and halfway into the quarter. We need a date.
A: The roadmap will be published in the month of February
Q: What's happening with Samsung DeFi partnership? There was meant to be a competition to promote dapps being built on AERGO. What is the update ?
A: We are currently working on the fine details.
Q: What do you plan specifically in terms of marketing? Blog on website, reddit, etc.?
A: We have published a steady stream of blogs and updates. We have not published on Reddit, however we are looking into assigning someone to this. Also looking frequently into micro promotions.
Q: Jae Shin mentioned that the team hopes for Korean government to start to recognize crypto currencies as a security. What is the reason for this?
A: Currently cryptocurrencies are not recognized in Korea as a form of security. This prevents banks from using crypto as a form of monetary instrument nor a need for custody. As many countries are not recognizing crypto as a security, this holds back many services from using crypto as a replacement for fiat.
Q: How many tokens are currently staked?
A: Currently there are 48 million AERGO tokens staked, which is about 9.6% of circulating supply.
Q: What separates AERGO from other leading enterprise blockchains and platforms?
A: Unlike other Enterprise Blockchains, it has entered the real business market with a partner called BLOCKO and has the ability to expand further. BLOCKO supports easy interworking between Private Blockchain and Public Blockchain through solutions such as AERGO Enterprise Manager.
Q: Is AERGO/Blocko looking at implementing DeFi? To clarify, I'm aware of the KDAC/Kobit move. I'm talking about yield farming within AERGO, or if AERGO would look at lending, loaning, insurance provision or being an aggregator?
A: AERGO/BLOCKO has no plans to directly develop DeFi and issue tokens. However, AERGO is preparing for the DeFi/Dapp Contest and Incubation, and is looking forward to creating a new business based on the AERGO mainnet.


Q: Are there any plans to list AERGO tokens on Uniswap? If yes, what is the status and when can we expect to see AERGO on Uniswap?
A : The AERGO Foundation does not provide liquidity directly to Uniswap. The community has listed AERGO pairs. You can check it by looking up the latest contract address (0x91Af0fBB28ABA7E31403Cb457106Ce79397FD4E6 ).
We appreciate all the questions you have asked the team and understand your concerns. 2021 has plenty in store for all of us, we will be releasing our updated roadmap soon so keep an eye out for that! In the meantime..
Join our Community!
Discord | Telegram | Telegram RU | Telegram ANN | GitHub | Twitter | Medium | Reddit | KakaoTalk | Weibo (CN)|