Since the AERGO mainnet upgraded to 2.0 update in late 2019, we have been working hard to enhance both the usability and stability of the AERGO network to prepare for mainstream adoption.
Building the Foundation
In 2020, we saw the introduction of AERGO Enterprise 2.0 with enhanced performance and a more enterprise-friendly user experience, as well as AERGO Agora to better decentralize the network and empower the AERGO community. The introduction benefited both the individual AERGO community members expecting more usage and utility for the native tokens, and the prospective enterprise clients who desire a more stable, decentralized environment that can be used to process serious workloads.
Earlier this year, we launched the closed beta service for AERGO Hub, a utility computing center built around AERGO, meant to replace more traditional PaaS (Platform as a Service) implementations.
All those developments precipitated into building a solid foundation required for the serious enterprise adoption of blockchain technology and now we believe we are ready for rapid expansion.
Our Vision for 2021
With a fully functional mainnet and a rich set of utilities to ease the adoption process, we intend to push the mainnet utilization to its theoretical limit by bringing a plethora of applications and use cases into our ecosystem this year.
In order to achieve this, we are announcing collaborations with two additional second party partners into our network to accelerate both the business and the technical sides of the AERGO ecosystem.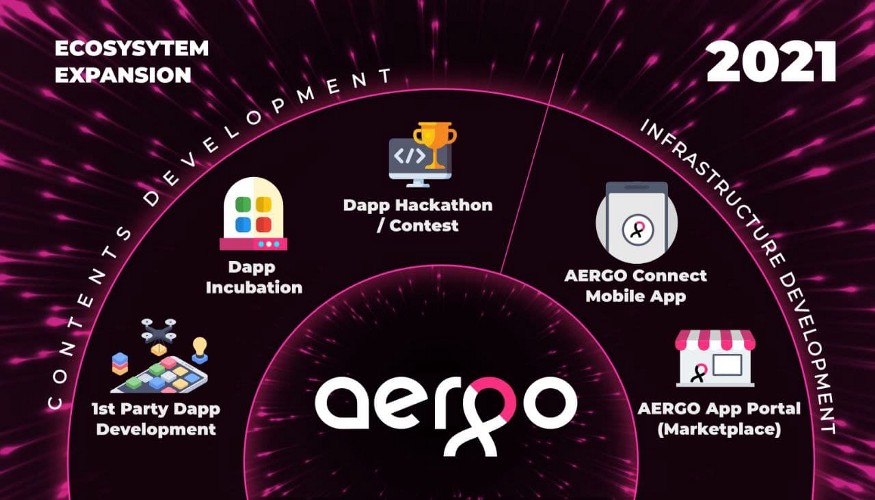 "Devroos" is a new entity based in Korea, introduced by a former Blocko co-founder and CISO Hochul Seok (the lead architect behind the AERGO Agora effort.) Devroos means to function as a more specialized, business-development vehicle for the AERGO project with a heavy focus on public relations. Devroos will strive to discover strategic opportunities for AERGO and help us make key investments in order to boost our ecosystem.
"Onmydev" is a new tech team founded by Hunyoung Park, the current CTO of AERGO and the lead architect behind AERGO mainnet technology. Onmydev will supplement our core team by bringing DevOps and cloud technology specialists into our workforce.
The two entities will work in tandem with Blocko, which will continue to serve as our core technology and business development partner in the enterprise area.
With the Devroos and Onmydev team in our network, AERGO will be able to seek a much broader range of opportunities and a stronger focus on B2C and crypto.
"Blocko" continues to be one of our important technology partner that has incorporated AERGO into their core products, AERGO Enterprise, AERGO Enterprise Manager, and DTT TSA. Blocko will be the source for corporate deployments and real life applications of AERGO.
Accelerate
We plan to accelerate the adoption of AERGO and boost our mainnet utilization with the help of the Devroos team.
App and Service Incubation
Starting with our investment in CCCV (https://medium.com/aergo/aergo-to-award-the-first-incubation-investment-to-cccv-63794ccfd96), we are launching an all-year-long effort to introducing second-parties to build crucial apps and services for AERGO that are meant for general consumption.
Those apps and services will integrate tightly with AERGO mainnet and test the limits of our technology.
We will be hosting a number of events and opportunities for the general public to propose/build applications and help them with the resources and network required to be successful.
We are in communication with key/strategic partners to provide more opportunities for those applications, including a chance to be listed/integrated into a global wallet provider.
We will be working with Blocko to bring enterprise applications and workloads onto AERGO mainnet.
AERGO will play a central role in DTT alliance (https://en.blocko.io/dtt/) by providing a high-performance, readily usable blockchain network that can be readily used.
Development
With the help from Onmydev team, we will be making key enhancements to better support apps and services built on AERGO technology, paving the way for the general adoption of our technology.
Building on the concept introduced by AERGO Hub, we will be launching a dedicated starting page for AERGO users, which will serve as both a control panel and an app store to discover and access AERGO apps and services.
Our app and service incubation program, as well as the community acceleration initiative, will play a crucial role in seeding the App Portal with important apps.
The App portal will be a two way channel where both DApp developers and users can interact with each other. By introducing features such as DApp registration, categorisation, advertisement and wallet based authentication, the App Portal will allow users to search and find Dapps while Dapp developers can acquire users efficiently. In this way, we hope the app portal will maximise the utilisation of AERGO mainnet.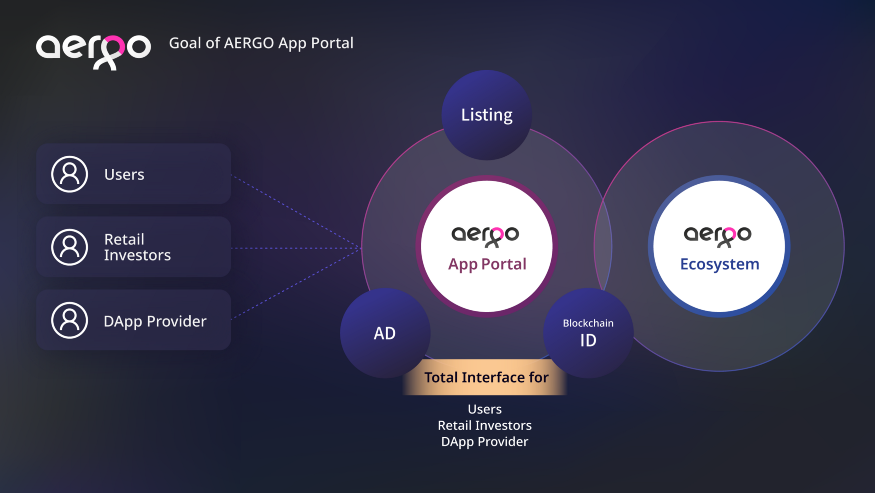 AERGO wallet support will expand from the current desktop-based experience to accommodate mobiles apps — opening up the possibility of building mobile apps/websites making use of AERGO technology.
Our mobile wallet will be fully integrated with the App Portal to allow accessing vital functionalities including participating in governance and BP selection process.
Important features to be developed include; storage of native AERGO tokens, access to the AERGO Portal easily, easy swap service and integration with the App Portal
The hardware wallet support for our native tokens will be enhanced, allowing not only the users, but potential crypto exchanges to interface our mainnet tokens directly as well.
We see this development as a crucial step in allowing more liquidity into our native tokens, enabling a more diverse range of applications/services to be built on top of our mainnet technology.
The Roadmap for 2021
In order to realise our vision in 2021, we have outlined our roadmap for 2021 as follows.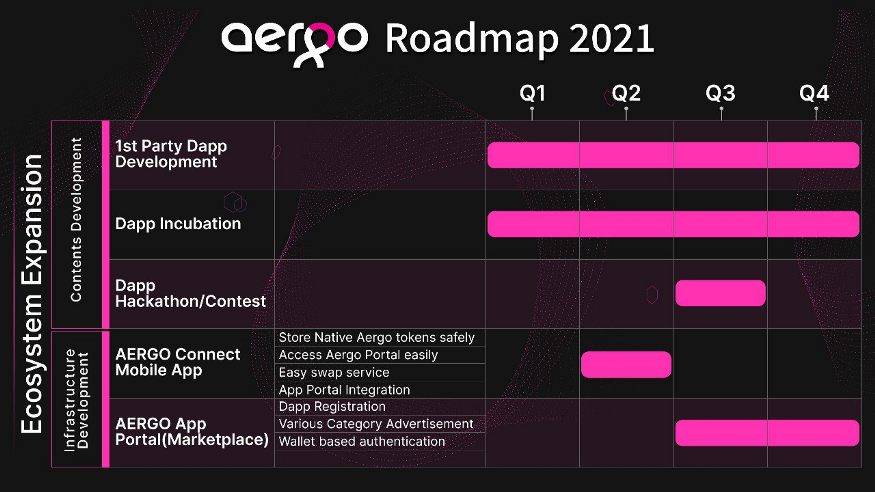 Our Promises
We will work hard to bring "the year of AERGO mainnet adoption" to reality. This will be a joint effort not only between our first party and second party partners, but with the community as well.
Up to 10% of global GDP could be stored on blockchains by 2025, according to the World Economic Forum (http://www3.weforum.org/docs/WEF_Building-Blockchains.pdf.) and I believe the only way for the decentralized future to come to reality is by helping enterprises adopt blockchain.
Join the journey and help us shape the future of enterprise blockchain.
AERGO Team
https://medium.com/aergo/aergo-2021-vision-and-roadmap-2d4ab015a31d